Meet Martin
Martin lives in an apartment and is on the Strata committee for that property. If you too are on a Strata committee, you might recognise a few of the problems Martin is facing.
Hi Councillors, have you ever wondered what your role actually is? I did, when I found myself on two strata committees managing a combined yearly budget of $950,000 and strata company assets worth $85 M. It became pretty clear, as committee members we are responsible for running a serious business - with a bucket load of money involved.
I was familiar with running a private company and had heard in various strata training sessions how strata companies are similar to private companies so I set about unpacking strata to see how the similarities played out.
I began with an overview and identified five high level elements of a strata company that I believe are important to understand.
I then set about identifying how to best manage these elements, but first I needed to better understand how a strata company works. The diagrams below reflect my interpretation. They are discussed in more detail in the Strata Portal. 
Why compare a strata company with a private company? It enabled me to validate my perception that a strata company is similar to a private company. The similarities in the table below actually bought into focus that I actually was running the equivalent of a small private company. As I unpicked the similarities it became obvious there were a few roles missing in strata.
Who provides these skills in a strata environment?
The strata portal discusses the roles below and offers ideas on how to massage the missing ones into your strata company structure. 
PRIVATE COMPANY
STRATA COMPANY
Board of Directors

Chairperson
Treasurer
Secretary
Board Members

Strata Committee

Chairperson
Treasurer
Secretary
Committee Members

Chief Executive Officer (CEO)
 
Chief Financial Officer (CFO)
 
Board members paid
Committee Members unpaid
Middle Management
Strata Manager
Employees
Consultants, Service providers and Suppliers
Management processes - Usually
Management processes - Usually not
Auditors - mandatory
Auditors - optional
I don't know if you have ever considered the structure of your strata company, or, if the structure of your strata company could impact the way your strata company runs? 
I found myself doing just that as I sat on two strata committees simultaneously and watched one of my investments flourish and one of them flail. So clearly it was not me that made the difference!
The investment that flourished had a building manager in the company structure and the investment that flailed did not. The question then became:
Why does a building manager make such a difference?
The simple answer centred around asset management. The complexity of 'why' they can make such a difference we unpacked inside the strata portal using diagrams that include the roles and skills we identified as missing in the strata company verses a private company accordion.
Diagram 1 - Strata company structure since 1961 when the first strata title was registered, it remains the same today
It's time to talk. As a committee do you have a handle on what you communicate, who you communicate with and why you do it? To understand how communication flows in strata I created the diagram below and what became clear is the strata managers desk is like a very busy train station with strata administration arriving and departing daily.
Consider this - A senior strata manager looks after 30 plus strata companies simultaneously that makes their role complex and busy. This is why a committee needs a clear accountable communication tool in place to ensure they capture what's happening in their strata community.
The biggest take home when I understood strata communication was, when work is done on behalf of a strata committee (by anyone) the committee need a system to ensure that information is captured and looped back because this information informs the decisions you make.
The three reports below are designed to keep the strata committee informed
Diagram 1: Strata Communications including a building manager
Stakeholders are individuals or groups that have an interest in the success of a company. This term is often used in the private sector but we seldom hear it used in the strata sector, however, that does not mean there are no stakeholders.
The stakeholder onion diagram below brings together the individuals and groups that contribute to the running of your strata company, the layers from the centre can be loosely described as:
Strata committee - decision makers
Lot owners - approval body
Professional advisers - administer and guide
Service Providers - implement
Suppliers - supply
Every stakeholder in the diagram below has a role in the success of your strata company.
Like a private company successful teams require leadership, good communication, a sense of collaboration and a purpose, and I know they go the extra mile if occasionally you throw them a party!
Diagram 1: Strata company stakeholders
Governance is the framework of rules and processes put in place to control and monitor your strata company
For the most part when a strata company engages a strata management service to collect and bank levies, maintain a strata role, hold the strata company seal and maintain financial records it is their processes that ensure your strata company's responsibilities are met.
Where the strata committee needs to step up and create processes is in the maintenance, repair, renewal and replacement of their strata company assets. This is not the remit of the strata manager.
Within the strata portal we have created a process to assist Councillors to meet their responsibilities in relation to managing their common property and we include tutorials and diagrams to assist in understanding governance as it relates to asset management.
We do challenge the concept that anyone can be responsible for a $400,000 budget, administer governance and look after $45 million dollars worth of assets with no qualifications or experience, it creates so much decision-making stress.
Diagram 1: Strata Company Governance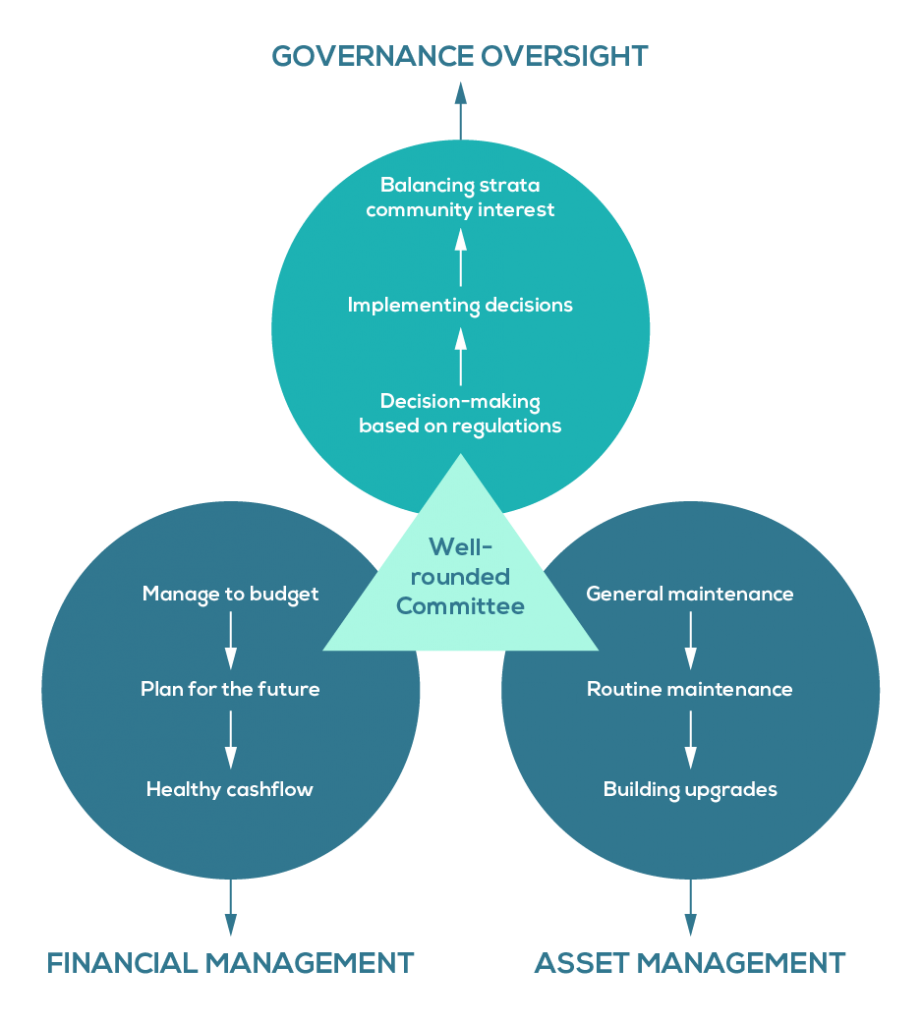 Well run strata companies have a vision for their strata company, have long-term goals that ensure the value of their assets increase, make smart decisions about how to spend strata funds whilst keeping strata levies stable and predictable.
There are two ways Solutions for Strata can help you run your strata better: